News
Xeeva Ranks Highest in Strategic Sourcing, SoftwareReviews Product Report July 2021
The SoftwareReviews, a brainchild of Info-Tech Research Group having two decades of expertise in the Vendor Space of Enterprise Software Landscape and Client Vendor Relationships have ranked Xeeva Inc. higher than its top counterpart and Best in the breed competitors in its July 2021 Product Report. It uses a Product Scorecard which is a comprehensive report designed to evaluate and help clients make better Software Purchase decisions. The SoftwareReviews collates the pain points and prevailing opinions most experienced by its real end-users who use the software day in and day out and IT professionals who have worked with it intimately through procurement, implementation, and maintenance. 
Xeeva has scored a composite score of 8.3/10, higher than SAP Ariba, Oracle, and GEP Worldwide who scored 8.2, 8.0, and 6.7 respectively. This score is arrived at by calculating the average of four different areas of evaluation: Vendor Capability Satisfaction, Product Feature Satisfaction, Net Emotional Footprints, and Likeliness to Recommend.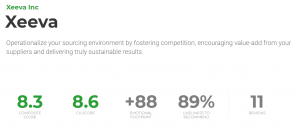 Xeeva's s solutions have been ranked #1 by its clients with 100 % plans to renew, recognized as #1 in Breadth of Features, the ability to perform a wide variety of tasks with one product solution. Users and evaluators have also ranked Xeeva Inc. #1 in Quality of Features and #1 in Ease of Customization. 
Xeeva Spend Analytics has been ranked as the champion with 80% client satisfaction, the #1 Spend Analytics Solution as of July 2021 report. Xeeva's Consulting and Advisory Services has been ranked as the #1 Differentiating Feature with 86 % satisfaction by clients. 
The report also highlights how different Industry Leaders have recognized Xeeva Inc. and its products with recommendations like "Fantastic Product and Team", "Quality Product, Quick ROI, Adequate Support", "Reliable, Efficient, and Value for Money" and "Easy to Use and Implement".
Xeeva,  the Leader in Spend Management Solutions believes in "Better Data, Better Insights, Better Outcomes". Xeeva is a trusted partner and a vendor of choice for Industry leaders. It supports its customers across their entire spend journey from end to end.  Xeeva's data-driven AI-powered end-to-end spend management solution provides valuable insights to assist with customer procurement and purchasing decision-making. For more information, reach out today! 
Compiled by: 
Pallavika Barthakur
Senior Marketing Specialist, Xeeva Inc.