Award
Xeeva Recognized as 'Outstanding Solution Provider' at 2018 ISM CPO Forum Awards for Second Straight Year
MADISON HEIGHTS, MI, November 16, 2018 – Xeeva, Inc., a global provider of AI-powered procurement and sourcing software, announced today that it won the runner-up award for "Outstanding Solution Provider" at the 2018 ISM CPO Forum Awards in India for the second year in a row.
Focused on recognizing procurement excellence, this was the sixth annual CPO Forum Awards held by ISM. This year's two-day conference, held in Mumbai, had the theme of the digital transformation of procurement.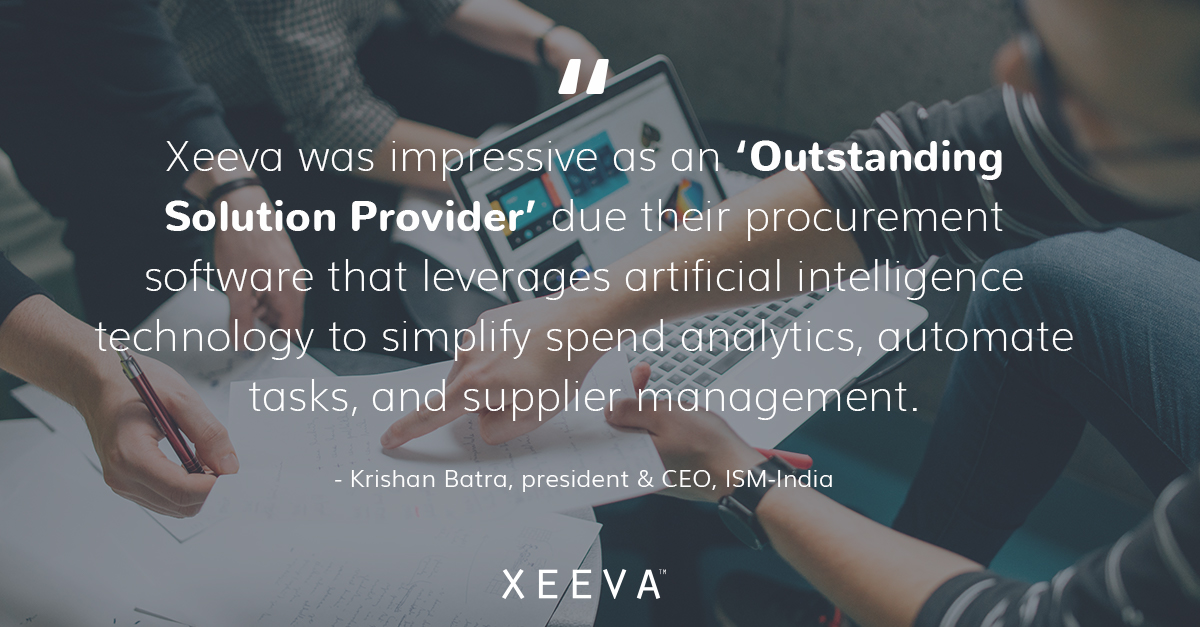 The outstanding solution provider category recognized organizations that deliver high-quality customer service and improve performance, efficiency, and productivity. The judging panel made their selections based on criteria, including involvement of staff, use of best practices, and value delivered. Xeeva was awarded by the panelists for its patented AI technology, in-depth procurement experience in the domain, and ability to solve problems relating to spend visibility and sourcing savings.
"Xeeva was impressive as an 'Outstanding Solution Provider' due their procurement software that leverages artificial intelligence technology to simplify spend analytics, automate tasks, and supplier management," stated Krishan Batra, president and CEO of ISM-India.
"To be recognized as an 'Outstanding Solution Provider' at the ISM CPO Forum Awards once is an honor, but to have it happen two years in a row is quite an achievement," said Dilip Dubey, CEO and founder at Xeeva. "We're grateful to be acknowledged for our ability to drive results by bringing powerful AI tech into procurement."
To learn more about Xeeva's innovative AI-powered procurement software, click here.
About ISM-India
Institute for Supply Management, India (ISM-India) based in Gurgaon (Delhi-NCR), is a not-for-profit association with Chapters in all major cities of India. ISM-INDIA is an affiliate of the Institute for Supply Management (ISM) in the USA which is the largest supply management institute in the world with a membership base of more than 50,000 supply management professionals in 75 countries.
About Xeeva
Founded in 2014, Xeeva is a global provider of intelligent cloud-based procurement software and financial solutions for indirect spend and MRO. Used in over 45 countries and available in 18 languages, their software suite automates the source-to-pay process with open communication for procurement, sourcing, and supplier management. Xeeva's innovative and patented technology is driven by advanced artificial intelligence and simplifies the procure-to-pay process with a focus on driving results – leading to increased productivity, improved compliance and control, and a sustainable bottom line impact. For more information, visit www.xeeva.com.
Contact
Marissa Bialick, Marketing Manager
Xeeva, Inc.
marissa.bialick@xeeva.com
248-565-0471
###