Announcements
The start of something new: Xeeva Vol. 2 (Life post funding)
Reflecting on the past couple weeks, I am enthusiastic about where Xeeva is and where we're heading! You may have seen us in the news recently – here, here, here, and here (and many others) – because we had an amazing opportunity to raise capital and partner with PeakEquity Partners, Greenspring Associates, and Morgan Stanley Alternate Investment Partners to grow Xeeva and continue to define the future of procurement. If you haven't seen the details yet, you can check out the full press release here. The funds will be used to further enhance our product, accelerate our sales and marketing efforts, and elevate our investment in customer success to new levels.
We've come a long way in the last 4 years. This is not only a great achievement for our team but also a huge milestone in Xeeva's story. Here are a few reasons why we're excited about what the future holds:
Reflection
I am so proud of our team, thankful for our customers, and excited about Xeeva's future! But now is also the time for us to take a step back and reflect on where we're at, where we'd like to be, and areas that we can improve. We've grown so much and had so many successes, however, we know that there is always room for improvement. Partnering with PeakEquity Partners will open new doors and allow us to move a little quicker along the journey to achieving our goals. We're thrilled to add Paul Winn and Justin Reger to our board of directors and are looking forward to working with them and benefit from the experience they offer.
Expansion
A large part of this new opportunity revolves around growth – scaling the Xeeva team (a.k.a. #TeamAwesome) and expanding our software's capabilities and functionality. We are hiring for multiple positions in nearly every department across our organization, including the sales, marketing, customer success, operations, and product teams. More hands on deck mean we will be able to achieve more and complete it faster! We're looking for people who are passionate, determined, and a go-getter. If that sounds like you and you're motivated about being a part of #TeamAwesome, visit our careers page to see what specific positions we have available and learn more about the benefits and perks we offer.
Connection
With additional funding, we can invest more into our customers' success. We want to ensure that we're continuously building strong connections and relationships with our customers. Our success is a reflection of the success of our customers. We're making sure we focus our efforts on continuing to deliver results! This starts with customer service, product enhancements, and partnerships, and expands into ensuring that our customers are getting the most from their investment. Our customers will be hearing more about these changes in the coming months.
Reflection, expansion, and connection are all reasons to celebrate. And celebrate we did!
The Xeeva team and their significant others spent a Saturday evening at CJ Barrymore's, a local indoor/outdoor entertainment center with bowling, laser tag, arcade games, and more. We enjoyed dinner, drinks, but most of all each other's company. With our often busy lives, both at the office and at home, it's important to take a few minutes and just enjoy life. This funding celebration event gave us the chance to do just that and it was a great way to reward ourselves for all of our hard work in getting to this point.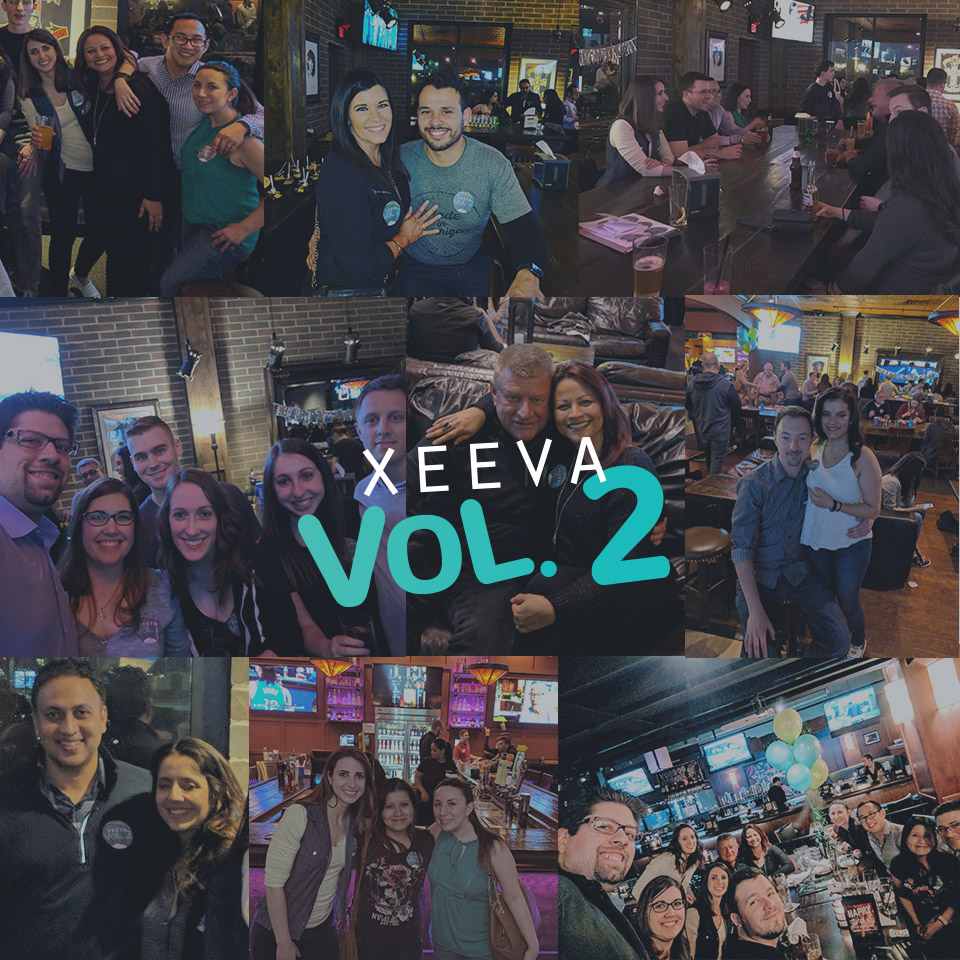 The funding, coming changes, and anticipated growth all share a similarity of being something new for us. It's the next chapter of our story. The next release of our album. We're excited about this next step in our journey and can't wait to see what else the future will bring.
I'd like to end this by saying thank you! Our continued success is because of our customers, partners, investors, and the people who make up #TeamAwesome. It's about your continued support and your belief in our vision. You're all what keeps us going each and every day. It's my honor to lead such a great group of people and to have the ability to change the future of procurement by creating an AI-powered solution that delivers massive savings while simplifying the source-to-settle process. So thank you to everyone who helps make this possible! Together, let's make Xeeva vol. 2 number one on the charts!