Award
Xeeva Recognized as One of the "Most Promising Procurement Solution Providers" by CIOReview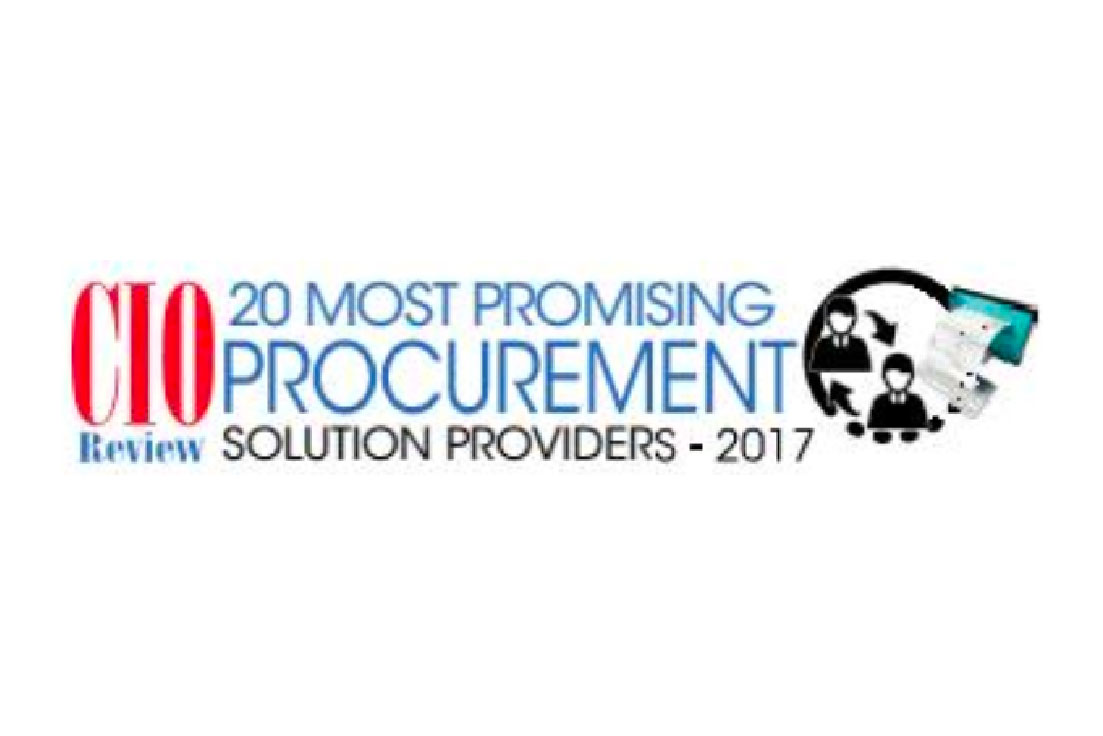 Annual listing includes the top 20 notable solution providers in procurement
MADISON HEIGHTS, MI, April 4, 2017 – Xeeva, Inc., global provider of intelligent procurement, sourcing, and financial software, has been recognized as one of CIOReview's "20 Most Promising Procurement Solution Providers" for 2017.
Every year CIOReview hand selects the top 20 procurement solution providers that are making an impact in the marketplace and redefining the landscape. Xeeva is among those companies with their cutting-edge software that automates and simplifies the procurement process to increase operational efficiency, drive savings, and deliver real results.
"To be listed as one of the top solution providers for procurement underscores that we are changing the game for P2P," said Xeeva's COO, David Austin. "Our patented technology which embeds deep domain and subject matter expertise in the form of artificial intelligence is changing procurement thinking. We're continuously looking for ways to add additional enhancements to our software suite. We want to make it easier and more efficient for companies to gain visibility, improve productivity, open supplier communication, and reduce their indirect and MRO costs."
"Being selected as a top solution provider and noticed for the momentum we're building is an honor," stated Dilip Dubey, CEO at Xeeva. "Our mission is to drive results for our customers with our innovative eProcurement software – so seeing that we are being recognized as one of the best solutions is rewarding and motivating."
Read the full feature here to learn how Xeeva is driving cost savings with their intelligent procurement software.
About CIOReview
Published from Fremont, California, CIOReview is a print magazine that explores and understands the plethora of ways adopted by firms to execute the smooth functioning of their businesses. A distinguished panel comprising of CEOs, CIOs, IT-VPs including CIOReview editorial board finalized the "20 Most Promising Procurement Solution Providers 2017" and shortlisted the best vendors and consultants. For more info, visit: www.cioreview.com.
About Xeeva
Founded in 2014, Xeeva is a global provider of intelligent cloud-based procurement software and financial solutions for indirect spend and MRO. Used in over 40 countries and available in 18 languages, their software suite automates the source-to-pay process with open communication for e-invoicing, procurement, and sourcing. Xeeva's innovative and patented technology is driven by advanced artificial intelligence and simplifies the procure-to-pay process with a focus on driving results – leading to increased productivity, improved compliance and control, and a sustainable bottom line impact. For more information, visit www.xeeva.com.
Contact
Marissa Bialick, Marketing Manager
Xeeva, Inc.
marissa.bialick@xeeva.com
248-565-0471
###