Press Release
AI-Powered Procurement Software Company Xeeva Receives New Artificial Intelligence Technology Patent
Covers one-of-a-kind techniques for the enrichment of "imperfect" data with AI to drive massive savings for procurement organizations
MADISON HEIGHTS, MI, January 22, 2019 – Xeeva, Inc., a global provider of intelligent procurement and sourcing software, announced today the issuance of a new patent (US10176427 B2) for its Virtual Data Manager capabilities. The patent incorporates functionality for rapidly enriching data records to improve both quality and consistency.
Previously, Xeeva was granted multiple related AI patents for its spend classification abilities. This new patent is an expansion of those, beginning to cover the data enrichment process. Once spend data has gone through cleansing and classification, the enrichment will be completed. With Xeeva's unique AI technology, its software is able to operate at the individual line-item level, rather than holistically at the supplier level. This granularity provides an unparalleled capacity to get insights from spend data and uncover savings opportunities – ultimately driving massive savings for procurement teams.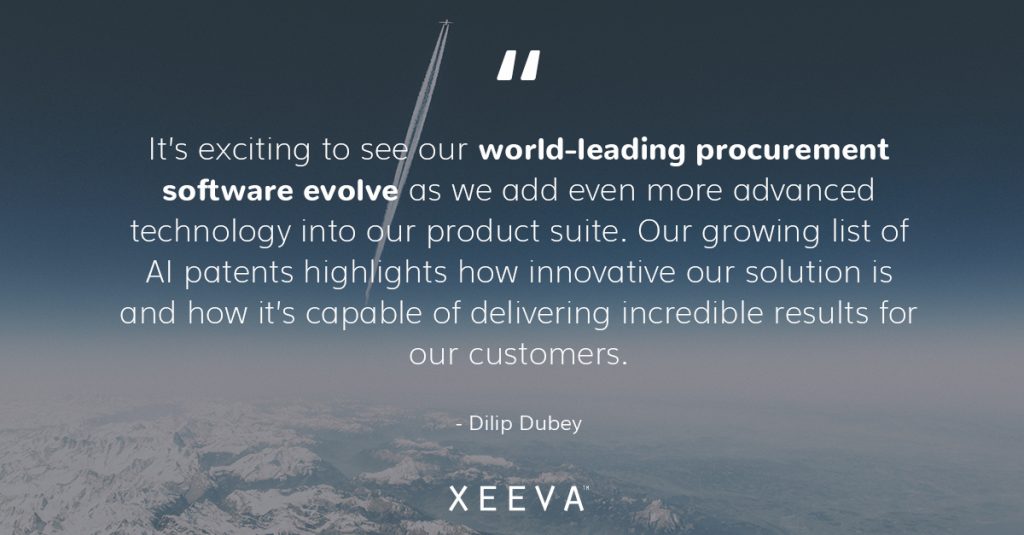 "Without the hard work and dedication of the Xeeva team, we wouldn't be able to accomplish what we do," said Dilip Dubey, CEO and Founder of Xeeva. "It's exciting to see our world-leading procurement software evolve as we add even more advanced technology into our product suite. Our growing list of AI patents highlights how innovative our solution is and how it's capable of delivering incredible results for our customers."
Xeeva is standing out from the crowd in the procurement space with its enrichment capabilities, as many solution providers only classify data currently. By being able to cleanse, classify, enrich, and deduplicate spend data, Xeeva's software allows procurement teams to make educated decisions with confidence that positively impact the bottom line.
To learn more about Xeeva's patented AI-powered procurement software, click here.
About Xeeva
Founded in 2014, Xeeva is leading the next generation of procurement and sourcing software. Its full suite source-to-pay solution does more than just improve processes, it transforms your business – allowing you to truly see more, do more, and save more. Uniquely built with patented AI at its core, the power of its advanced technology is integrated throughout the entire suite to drive actual results across your organization. Xeeva reveals insights no other solution can see, eliminates tactical and tedious procurement tasks, and generates immediate bottom-line value in places you didn't even know to look. For more information, visit www.xeeva.com.
Contact
Marissa Bialick, Marketing Manager
Xeeva, Inc.
marissa.bialick@xeeva.com
248-565-0471
###