Blog
ProcureTechSTARS Interview with Nina Vellayan, CEO and Director of Xeeva!!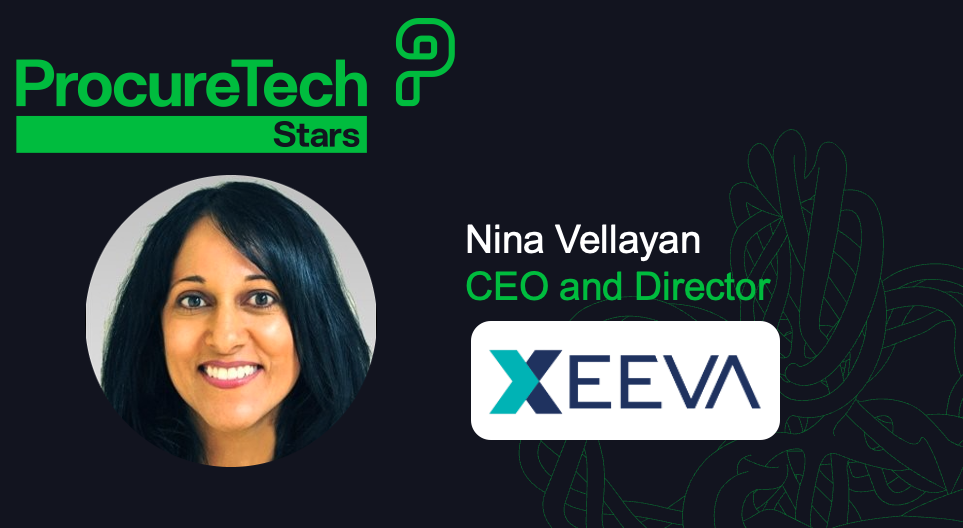 This week our President & CEO Nina Vellayan sat with Lance Younger on this week's ProcureTech Stars Interview to discuss her thoughts on guided execution, platforms, data journeys, autonomous sourcing, intelligence, promoting passionate team members, and her love for vodka martinis!
Below is a summary of the interview.
Or follow this link to read the Full Transcript: 
https://www.procuretech.co/blogs/procuretechstars-with-nina-vellayan/ 
What's Xeeva's mission and USP?
Our unique selling point (USP) starts with cleansing, normalizing, and enriching the data on our platform. We're complete enrichment for organizations like Walmart, which means if we've enriched data for one customer, the 100th customer on Xeeva's platform gets the benefit so it makes sourcing very effective. Another USP is with regards to category planning, the AI uses a bunch of attributes to see which is the most effective. 
What have been the most significant milestones in the Xeeva journey so far?
Xeeva has made a complete transformation in the last few years since the pandemic, where we focus on our platform approach. There are many companies in this space, and it takes them a long time to do it, from the time we get a data set – we're able to show results in less than 6 weeks. We believe the mid-market needs help, so we're not just focused on the big guys. We think everyone can benefit from our platform and what we're doing.  
What are the foundations of a great team?
Xeeva has gone through a lot of changes. I've been here two years, and most of the team is new, but culture is so important to us, and we have made it such a foundation. We're very employee-friendly and work remotely/home-based, where everyone has a voice and is passionate about procurement. We've moved a lot and grown over the last few years, and it has been great to see.  
As we emerge from COVID what will you be doing differently?
We really focused on the intelligence built into the platform throughout the process. I mentioned there continues to be supply chain issues, but there's also going to be staffing issues. We want to be sure that we use the technology to make it super easy for our customers to be able to reach their goals. It's not always about savings. If you don't have visibility to expand, you need to be able to see across multiple ERPs and datasets. 
What is the vision for Xeeva
for
the future?
The long term is really what we're working on today which is all about the visibility of business decisions. 
"I truly believe that technology should be used to connect all these organizations globally, with suppliers globally, to mitigate the risk." 
Everything that the pandemic has shown us is that supply chains are so fragile. If we can do that and you can have the right visibility into what's going on with your global organization and make these decisions with limited staff – that is Xeeva's goal.  
How Xeeva is helping the planet?
Within our marketplace we rate suppliers. We rate a lot of those and bring them into our marketplace, so when companies are evaluating for ESG, when they're looking at sustainability, and looking for suppliers, they can actually go through and validate them. Built into the platform, coming into 2022, as part of our roadmap, they'll be able to select certain criteria, so certain suppliers will come first, second, third, and so on. 
From a planet perspective, we also work from home so that reduces our carbon footprint instead of traveling into the office – we're going to remain a remote company from that perspective and give our employees as much flexibility as possible and more family time.  
Who is your favorite inspirational leader & why?
Steve Jobs is one and Indra Nooyi, PepsiCo's former CEO. I look at business leaders who have really inspired me and have had some great mentors throughout my career. 
What's your favorite way to celebrate success?  
I celebrate success when our customers are successful and honestly if we can promote our employees in their future careers, I consider that a win. My role is to be a mentor to the next generation. 
Xeeva is the leader in indirect spend management solutions that optimize the entire procurement process. From delivering unparalleled data quality and completeness to intelligent guided buying for managing complex procurement operations, take advantage of Xeeva's unique combination of AI-powered technology, industry insights, and domain expertise to maximize your procurement efficiency and savings. 
Xeeva transforms indirect spend management with best practices around spend analytics, data enrichment, sourcing, and procure-to-pay solutions that drive better, more strategic decision-making and deliver real financial impact to the enterprise 
About ProcureTechSTARS
Our industry is moving forward faster and faster, empowered by innovative, progressive digital procurement solutions created and led by inspiring teams. ProcureTechSTARS are the digital procurement company CEOs and Founders that are leading the change, they are entrepreneurs, engineers, and architects collaborating to transform procurement and the enterprise. In an open conversation with these leaders Lance Younger will be discussing the highs and lows of building the future now, the challenges they've faced, their perspective on accelerators and hot topics, and what keeps getting them up in the morning (and keeps them up at night).