Procure-to-Pay
From networking to insights: our 5 favorite parts of ISM 2018
ISM 2018 in Nashville, TN was a whirlwind of an event! Thousands of supply chain management professionals spent last week at the Institute for Supply Management's annual conference, encompassed with 4 days of educational sessions, 2 days of intriguing vendor exhibitions, having hundreds of inspiring conversations, and building countless relationships. From speakers like Arianna Huffington, founder of The Huffington Post, to Dan Bartel, chief procurement officer at ABB, the conference was full of highly informative presentations, forward-thinking ideas from thought leaders, and big goals for the supply chain management community as a whole.
These are 5 of our favorite parts of ISM:
Educating about artificial intelligence
One of the most common questions we got at ISM was "I see you're AI-powered, what makes yours unique?" With AI being one of the latest buzzwords constantly being thrown around, we enjoyed having the opportunity to educate you on what true AI is and explain how the patented AI tech that powers our software is different. For those of you who missed the explanation, here's a quick recap of why our AI is different:
We actually have AI and it's been a part of our product for years. Even better, our AI is patented (and has been since 2017), making it all the more unique in its ability to provide real results quickly.
Many companies just automate procurement and haven't created autonomous procurement. To explain the difference, let's think about a train vs. a self-driving car. A train can follow a track to get from point A to point B successfully – that's automation. On the other hand, a self-driving car is autonomous in that it doesn't need a track. It recognizes its surroundings and can make its own decisions to get from point A to point B. Similarly, our AI isn't just going to complete a simple task for you. It is going to evaluate all the data it's been given and provide you with actionable insights quickly.
Meeting motivated individuals from near and far
What a blast it was meeting you, introducing Xeeva, and learning how your organization manages spend currently! We met so many really cool people with great stories to share. If you'd like to keep the conversation going, maybe thought of a new question for us, or simply just want to connect, don't hesitate to reach out. Whether we're at ISM or working in the office, we're always down to chat about AI and how it fits into the future of procurement. Either way, stay in touch because we hope to see lots of familiar faces next year in Houston!
The excitement over our super awesome tshirts
I don't think anyone can deny that our tshirts were pretty freaking awesome, amiright? We were awed, amazed, and honored at how much you all loved them! Even after we ran out of shirts, the number of requests to send you one after the show was overwhelming. (If you didn't get yours, don't worry, we'll be mailing them out in a few weeks!) Lesson learned: bring more tshirts next time. We'd also like to send out a big thank you to everyone who participated in our tshirt contest! We loved seeing pictures of ISM attendees with their new shirts! Hold your breath for something even better from us next year.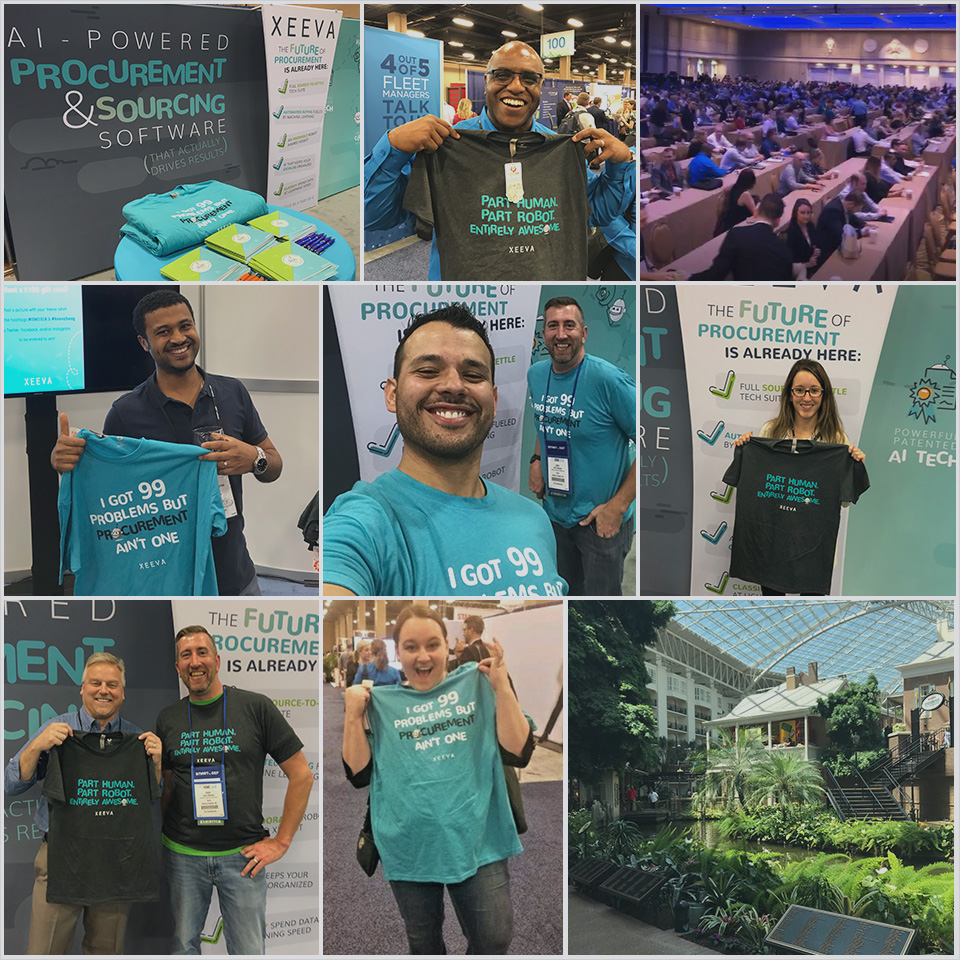 The eagerness to participate during Edutainment
You're geniuses! We hope you found the time valuable and that you learned a few things about AI and procurement. You shocked us at how many of you knew the answers to our questions. Did you catch the one we did in Spanish? Just like our product is flexible to meet your needs, we wanted to make sure our questions were accommodating enough for everyone to get a chance to participate. If you weren't able to attend the session or want to review some of the stats we asked about, check out this fun infographic for a refresher.
If you're having spend management problems, I feel bad for you son. I got 99 problems but procurement ain't 1!
Chatting the future of procurement
If it wasn't clear before, we hope it is now – the future of procurement is already here! The time has come to be a part of it. We're passionate about the benefits AI in procurement can bring to organizations and we want everyone to know. AI can get you detailed visibility easily, cleanse and categorize your spend data quickly, automate and simplify buying processes, and uncover savings opportunities that will create sustainable results. Don't get left behind. If you want to learn how to take the first step in improving your data, check out our whitepaper, It All Starts With Your Procurement Data or contact us to set up a live demo to find out how our patented tech can work for you.
All in all, we had an amazing time at ISM 2018 and we hope you did too! Can't wait to see you again next year at ISM 2019!