Blog
Creating a Sticky Company Culture with Christopher Hudson, VP of People – Xeeva Spotlight Ep3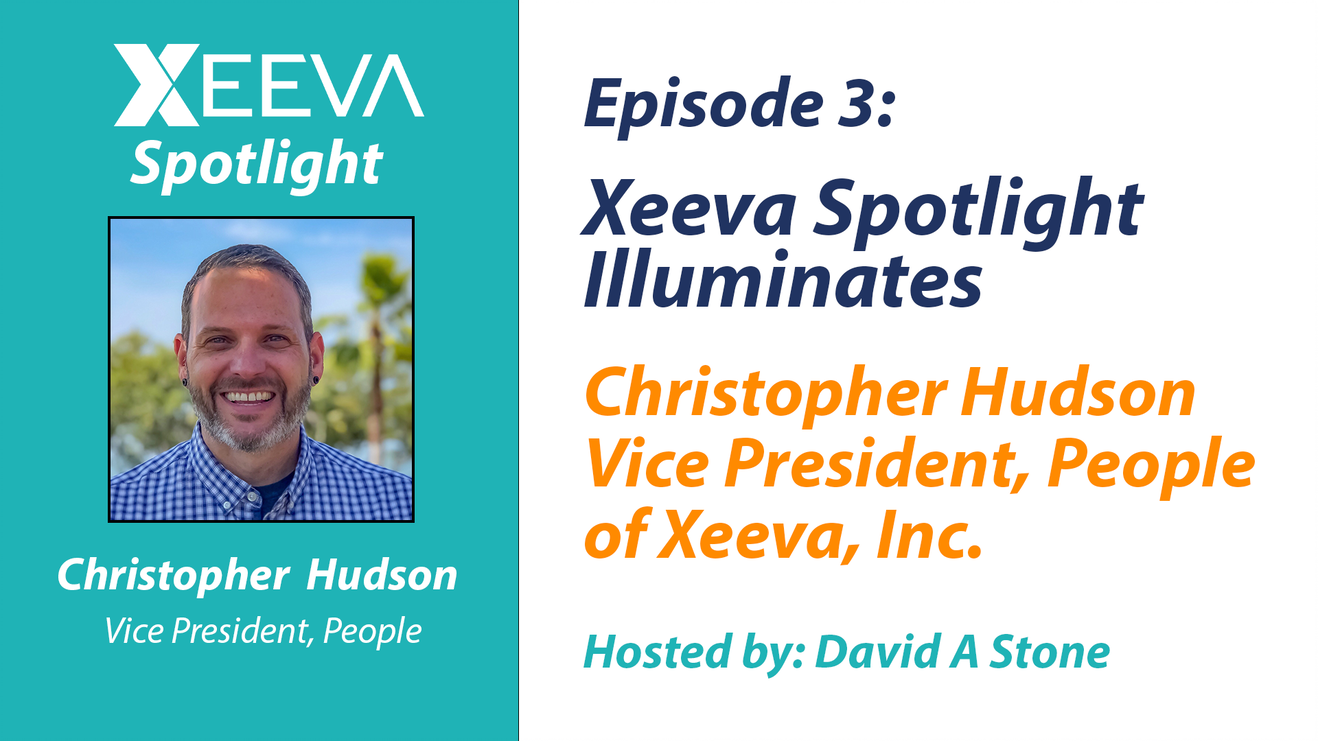 Welcome to the 3rd Episode of Xeeva Spotlight where we feature the people who power Xeeva.   
In today's episode of Xeeva spotlight, we interview Christopher Hudson- Vice President, People at Xeeva. With 20 years of both strategic and tactical experience in talent management programming, he believes a world-class culture to be the driving force behind business success..   
In this featured interview, David A. Stone and Christopher Hudson discuss the benefits of working for a start-up like Xeeva, what differentiates Xeeva from its competitors, issues faced by procurement organizations today, and his passion for helping the future generation of young professionals. 
Tune in to today's episode and learn more about Christopher's journey to Xeeva. 
Watch the full episode here: https://youtu.be/BB1TXMxlUlw 
Timestamps for easy navigation  
1:52 – How your corporate journey brought you to Xeeva?    
3:49 - How to establish a great company culture?    
7:33 - What makes Xeeva a great company to work for?    
 10:53 – What are Xeeva's competitive differentiators? 
12:55 – How do you keep your team motivated and facilitate cross-team functionality in this new normal of remote work?    
19:32 - What are some things outside of work that have motivated you to achieve the amount of success that you have experienced over your career?    
23:55 – Do you have any tips you can give to procurement professionals to help them succeed?    
 27:02 – What are some of the biggest challenges facing procurement departments today?  
 28:29 – What advice would you give young professionals who want to start their career?  
 29:50 – What do you love most about working with people?  
About Xeeva – Xeeva is the leader in indirect spend management solutions that optimize the entire procurement process. With Xeeva's data-driven spend management solutions, you can simplify, consolidate, manage, control, and conduct all spend-related activities in one place. Our end-to-end integrated cloud-based platform drives cost savings, performs data enrichment, increases visibility into spend, and adds efficiency gains throughout the procurement process. For more information, visit www.xeeva.com  
About Christopher Hudson – Vice President, People 
As the Vice President of People, Christopher works to ensure a people-focused approach across the operations, with a focus on acquiring new talent, developing organizational leaders, and guiding human behaviors that support Xeeva's mission and values. He has led people and culture initiatives in Europe, the U.S., Canada, Brazil, and Malaysia. Christopher is certified through the Society for Human Resource Management in the United States and through the Chartered Institute of Personnel and Development in the United Kingdom and the Republic of Ireland. Additionally, he holds a bachelor's degree in French from Old Dominion University and a post-graduate degree in Arts in Human Resource Management from the National College of Ireland. Christopher lives in St. Petersburg, Florida, enjoys traveling in his RV, and owns a small crafting business.