Creating Value through Shared Knowledge and Best-Practices
Training
Xeeva uses combined delivery methods of classroom, web-based and hands-on training to ensure rapid solution adoption and proficiency with the solution. We also offer train-the-trainer courses as part of implementation and deployment effort.
Along with training, role-based manuals are provided to support each user type. As part of each training element end-user feedback is solicited, potential risks and gaps are identified and mitigation plans are recommended. We also follow-up with your Process Champion to review initial individual performance, i.e., application usage to ensure the organization is using the system as expected.
Our standard training framework follows: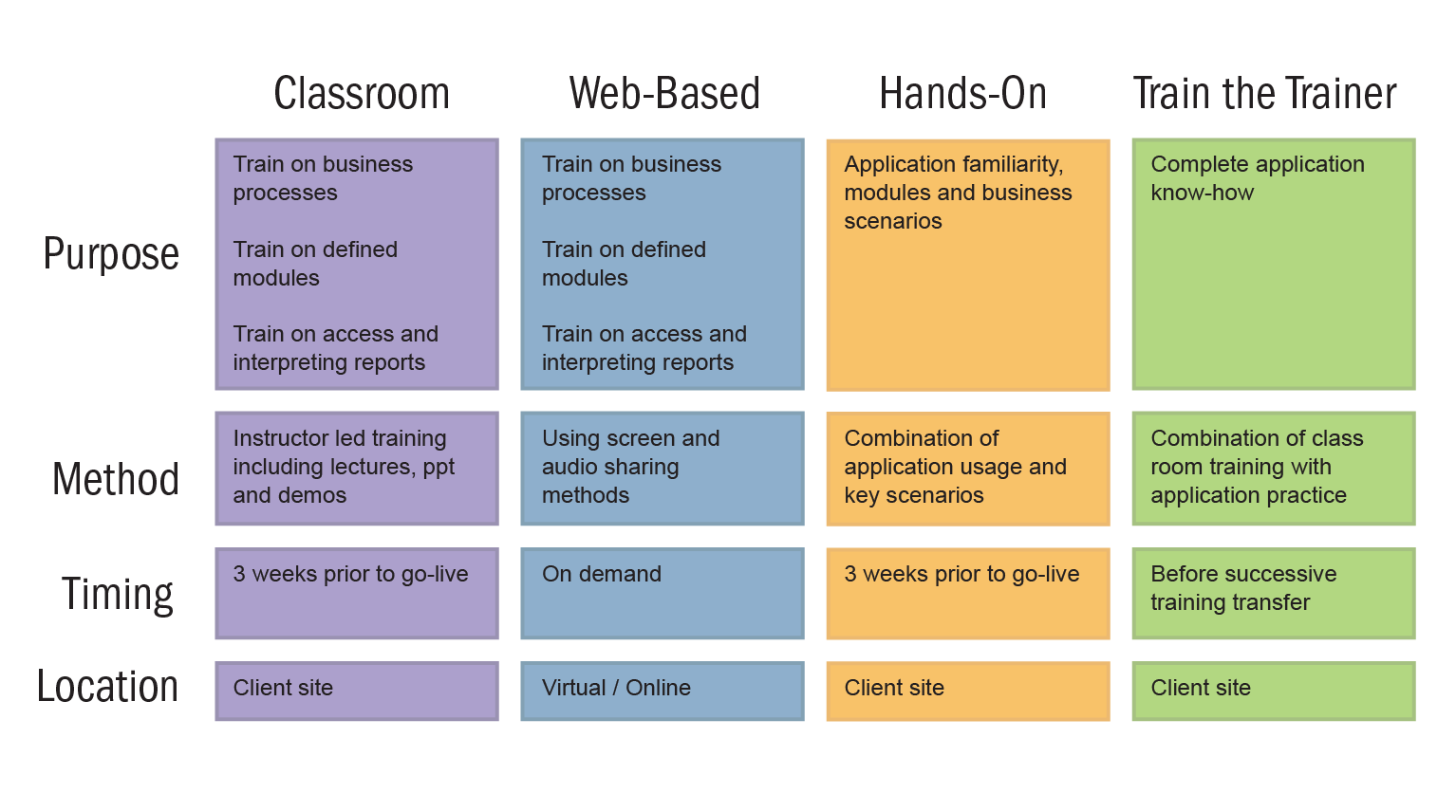 Supplier Onboarding
We recommend that your Supplier Collaboration portal launch at the same time as the overall roll-out. This allows for the maximum benefit of supplier collaboration. With roll-out you begin capturing efficiencies in successful collaboration with the suppliers on RFQ response, PO acknowledgement, etc. and start holding suppliers accountable to their actions and performance. On-time delivery can be measured and supplier scorecards can be run. This provides the basis for effective supplier management. But depending upon the appetite for change, some clients have chosen a phased onboarding, e.g., different approaches by region/theatre and they will temporarily continue the business processes of downloading the POs and emailing them to the supplier base at the time of go-live, revisiting the supplier onboarding at a later date.
Supplier training is accomplished via self-service video which eliminates the cost / scheduling / classroom size – and associated headaches of trying to align often thousands of suppliers. We make self-service available via our Learning Management System and provide access to our customers, suppliers and channel partners.
Sourcing Capability
Although many customers don't need it, we also offer sourcing support as part of many P2P efforts. This value-added service can help in a variety of ways. We have internal sourcing capability across all major indirect commodity areas and can parachute in to help you with specific sourcing requirements. We can also work side-by-side with your commodity managers as part of the implementation process to help with coaching, change management or other support as needed.
Support
Driving results. Getting the most out of your investment is paramount to your success and, frankly, to ours.
Providing solid technical support that is responsive and engaged is the minimum you should expect from a software provider. We take support a step further, extending beyond typical technical support and providing you with access to a global team that has sourcing, infrastructure, integration and software development capabilities, all focused on one thing – delivering results to our clients.
Our Global Support Team is headquartered in India and provides Tier-1 through Tier-3 support to our global SaaS customers on a 24 x 7 basis should you choose this level of support. This support organization nerve center is a Center of Excellence function that measures, monitors and enforces process and quality compliance that are of the highest industry standards and aimed at exceeding our SLAs. Response times are detailed in the table below:
Xeeva provides corrections of Errors in accordance with the following response times based on the priority such calls have been assigned by the client.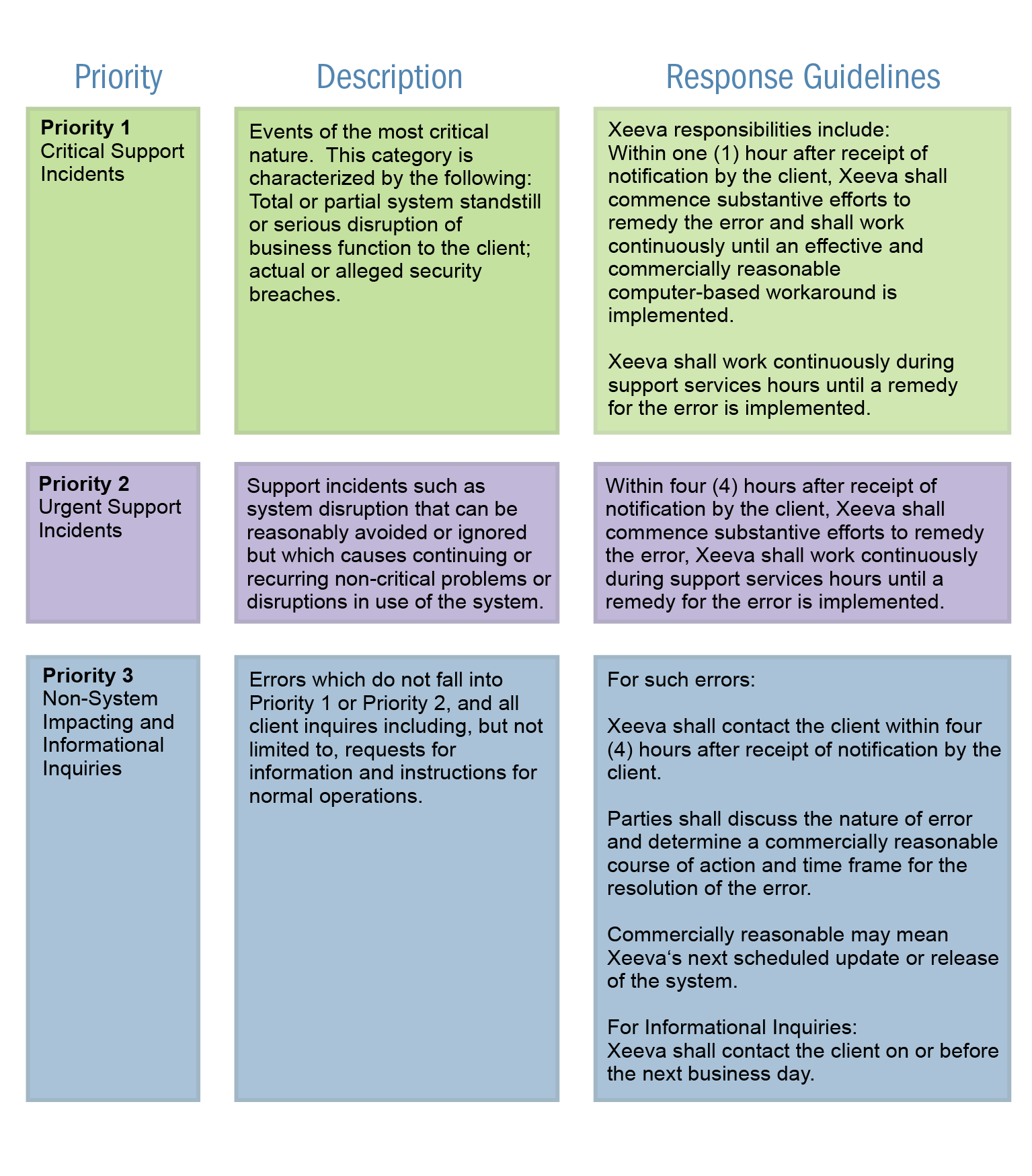 Xeeva offers three service levels defined in the table below. The Professional-level offering is included as standard with all SaaS subscriptions.