Cloud Procurement Software
Xeeva delivers Cloud-based procurement and eInvoicing software from the cloud on down. That's us in a nutshell – pure Cloud. Technology delivered via the Cloud allows you to implement quickly, deploy new features (and value) faster and scale as your business requirements grow or shrink and implement more quickly leading to faster results – results in weeks, not quarters. Built as a suite of connected and configurable modules, changes can be implemented rapidly rather than requiring IT intervention or a change request.
How's it work? You simply subscribe "as-a-service" to the modules you want – we fire up your instance with no need for any equipment or software on your premises, and then we work with you to ensure the seamless connections to all the necessary systems, .e.g., ERP, HR systems, MRO are all made with minimal IT involvement and hassle to you.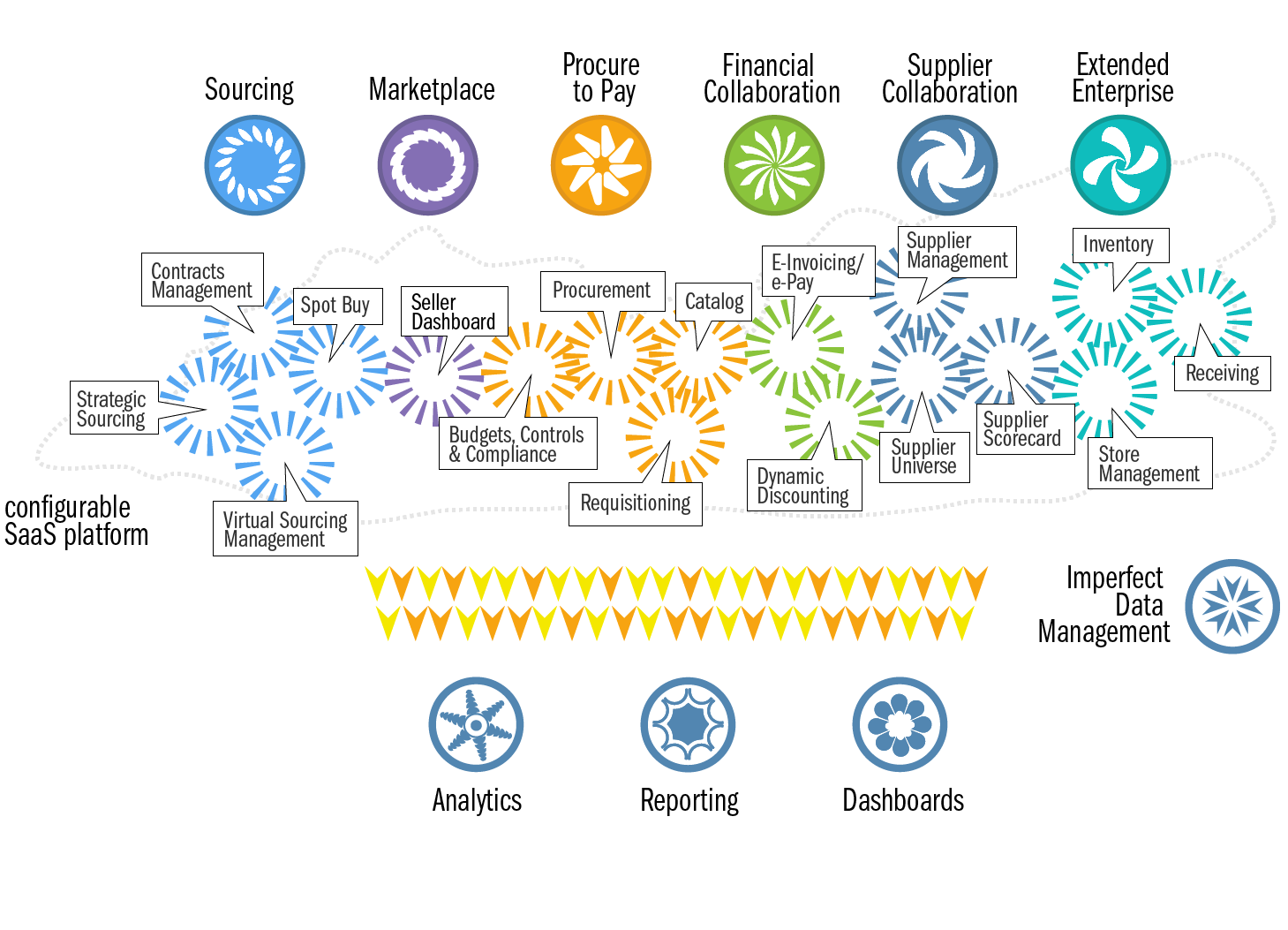 If you're still not sure that cloud procurement software is right for you, consider the benefits of implementing a technology solution via the Cloud.
Upfront cost. It's not that long ago companies like yours would spend millions on a perpetual license for a specific technology and then six, nine or 12 months later that technology was implemented or it became "shelf-ware" – a popular term describing software you owned that just sat there. IT would also need to buy a server, a database, and bandwidth, then allocate IT resources that were charged back to you. Pricey.
Lower TCO. It's not just the upfront costs that ding your capital budget but the on-going costs associated with maintaining the technology infrastructure, implementing upgrades, ongoing maintenance bills, adding storage capacity and increasing bandwidth that add up. In a SaaS world, you pay one number monthly for technology – you know what the number is, what it gets you and you can plan around it.
Rapid Implementation. Our infrastructure is already up and running so your company can go live faster. That helps with faster adoption and faster time to benefit. This also gives you the flexibility, if you choose, to phase your implementation across geographies, plants or business units. This flexibility is key to helping your employees and your suppliers up and over any adoption curve, even a flat one.
Subscription-based pricing. In a SaaS world you subscribe to our service. It's an operational cost that hits your P&L monthly, not all upfront. Although we hope you never leave, when you're done with it, cancel it. If you need more users, order more users. It's that simple.
Scalability. Scale up or down, the Cloud doesn't care like your IT organization does. In the on premise software world where you buy a software license and maintain it on your systems, adding more users or more bandwidth can be an IT marathon. Adding users in a Cloud delivered solution is as simple as completing an order form. In the Cloud world, we have ample infrastructure to handle many customers on a global basis. Scale is just a matter of adding a user.
New Features and Functions. Updates and upgrades are accelerated during planned windows of at least four times a year. These are feature rich upgrades that are implemented without the need for your own IT resources. Users benefit from instant access to the latest intelligence embedded into our software and business results are sustained as new, value driven features are delivered to you.